ABOUT VIRTUAL REALITY SOLUTION FOR BUSINESS
Virtual reality systems and products are the most promising and interesting areas in a rapidly developing and changing world.
FUTURE OF VR TECHNOLOGY
Global corporations invest a huge amount of financial resources in the development of VR products. 4.1 billion dollars were invested in VR in 2019. More than 50% of the funds are invested specifically in game projects. The VR development leaders are the USA and China.
Why are businessmen interested in VR technology?
According to the results of a YuMe study conducted in 2020:
86% OF PEOPLE ARE AWARE OF THE EXISTENCE OF VIRTUAL REALITY TECHNOLOGIES.
ABOUT 63% OF RESPONDENTS WANT TO USE VR IN EVERYDAY LIFE AND BELIEVE THAT THIS TECHNOLOGY IS THE FUTURE.
29% HAVE EXPERIENCE USING VR AT FRIENDS' OR IN VR CENTERS.
AND ONLY 16% OF PEOPLE HAVE OR HAD THEIR OWN VIRTUAL REALITY EQUIPMENT.
The survey involved people from 16 to 64 years old. The enormous demand and interest of people with a small number of offers for it made the business of VR one of the most promising in 2020 and 2021.
VR BUSINESS SOLUTION BY LASERTAG.NET
Our VR equipment for business is a completely new product in the B2B sector, which allows you to interest and attract a large number of visitors and new customers.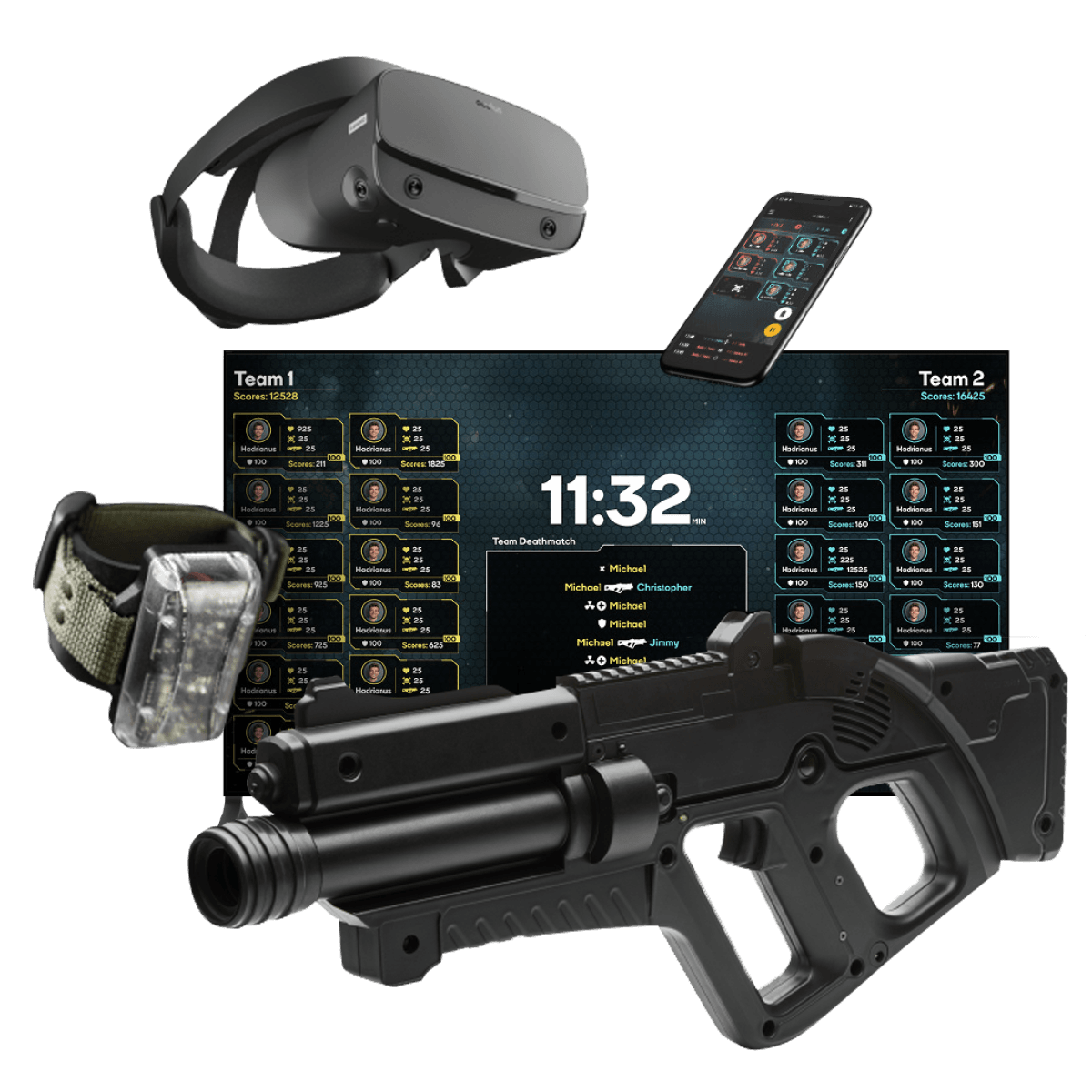 NEXT GENERATION OF VIRTUAL REALITY
The virtual reality equipment by Lasertag.net has strong competitive advantages over first-generation VR systems:
Quick launch.
No backpack with a computer.
Higher resolution of VR glasses.
Flexible adaptations to customer and business needs.
Affordable equipment cost.
The team of Lasertag.net developers allows you to create the most relevant and popular locations, scenarios, and game modes in the shortest time possible. In this case, any updates and improvements can be sent to the owners of vr equipment remotely.
THE BEST LASER TAG DEVELOPMENTS ARE NOW IN VR
We transferred our best developments from the sphere of laser tag to virtual reality:
NO WIRES
It provides full freedom of movement.The game does not require a backpack with a computer, it reduces the load on visitors and allows children from the age of 6 years to play.


LONG BATTERY LIFE
Conduct games at the VR arena for several hours non-stop, and also you can always increase battery life with an additional modular battery.


THE IMPULSE SIMULATION OF RECOIL IN BLASTERS
There is a module installed in the blaster, which works simultaneously with the shot creating an impulse directed to the player's shoulder. The Impulse recoil significantly enhances realism and immersion in the virtual world.


FREE MOVEMENT AROUND THE ARENA
Due to the free movement around the arena, a deep immersion in the game scenario is achieved, which does not happen when visitors are limited by zones or grids.
THE GAME-PLAY OF OUR VR SYSTEM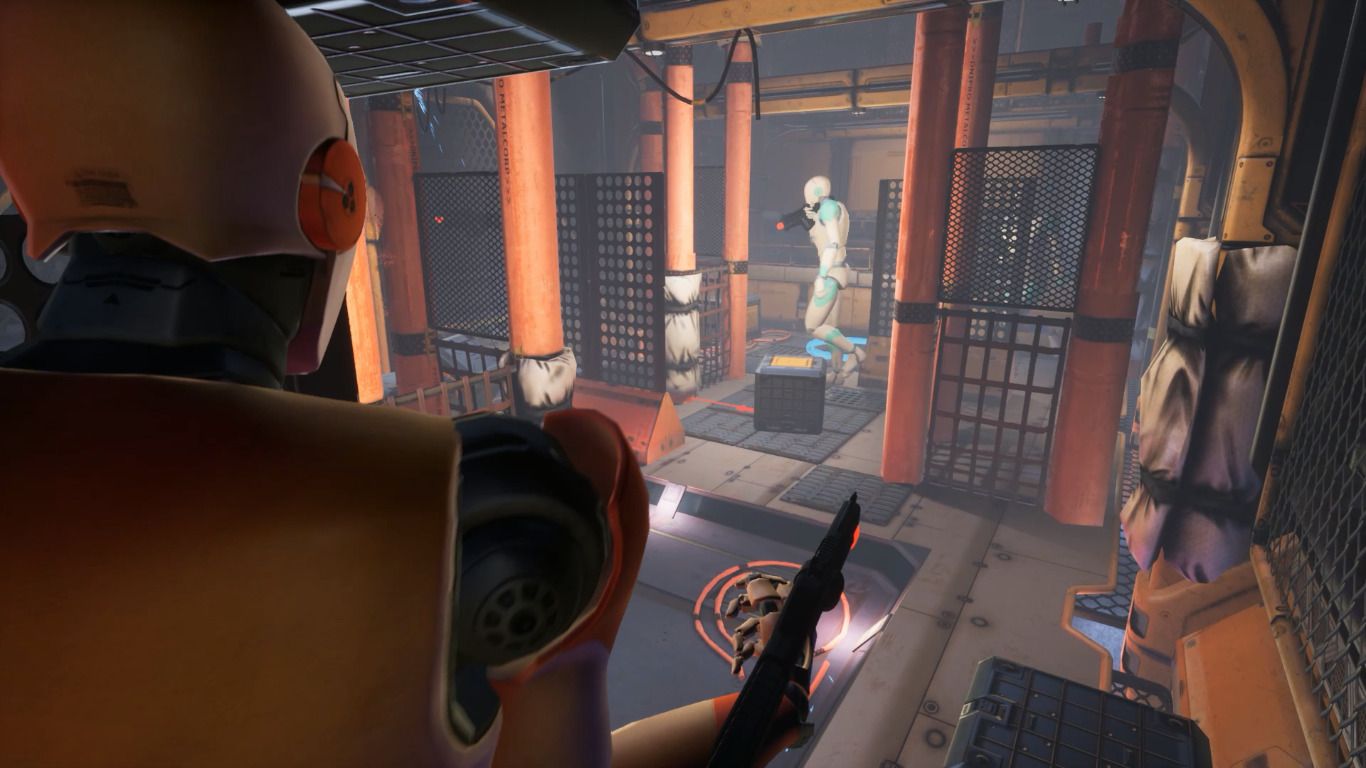 The basis of our VR systems is the multiplayer interaction of real players (P2P) and scenarios with the participation of artificial intelligence (AI, P2C). The battles can be held locally or over the network using special software and additional equipment. Players are completely immersed in the virtual space, they begin to feel, see and act inside the game location.
Striking battlefields, dynamic scenarios and exciting graphic effects will allow you to spend the time in a virtual arena having as fun as possible.
In order to create the most realistic player's contact with the VR environment, special interfaces and controls used to play the game are close to those modeled in the game. For example, a blaster may look in reality, just like in the game world.
VR EQUIPMENT FOR BUSINESS AND EVEN MORE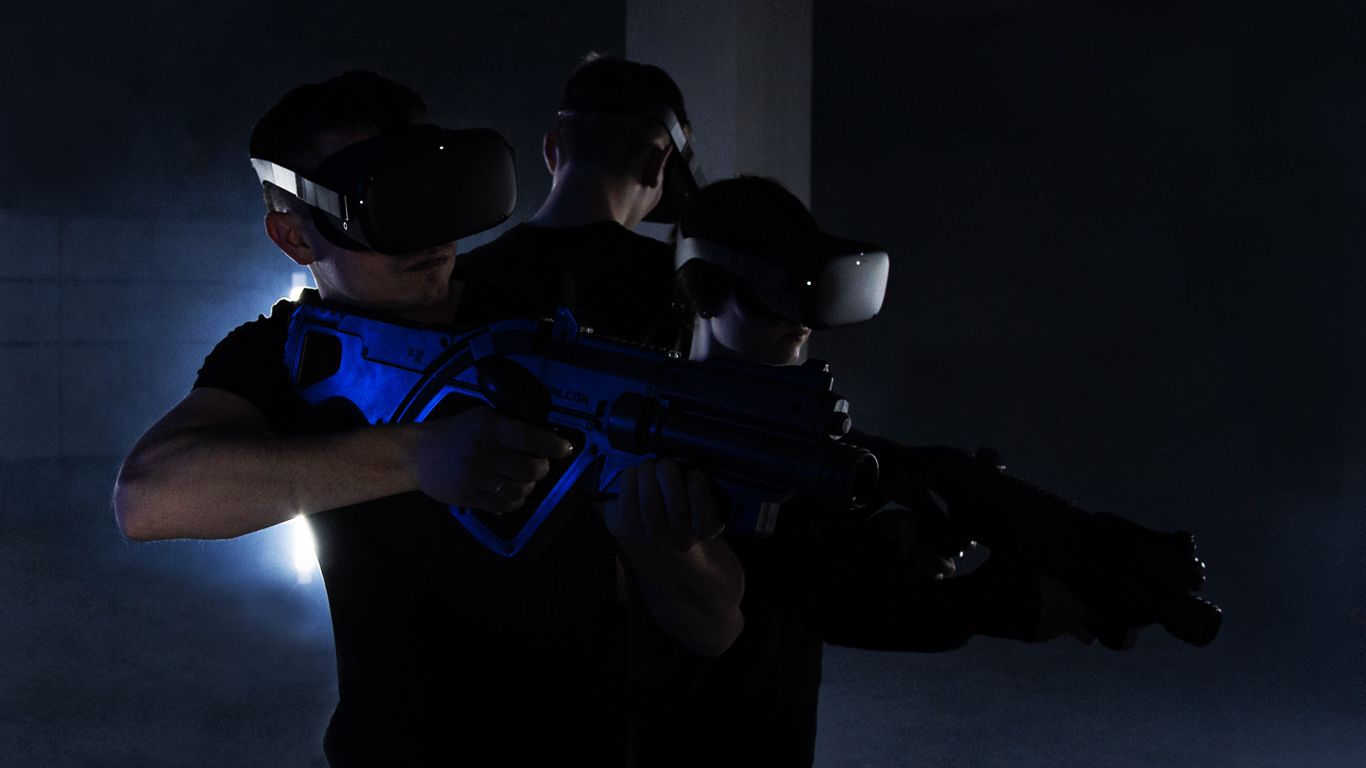 The system of virtual arenas allows you to hold not only entertainment events, but also competitions, and, in the future, sports championships. Games can be held remotely, which is especially important for international tournaments, for participation in which players will not have to travel to another country to compete.
WHAT IS THE SIZE OF THE PLAYGROUND FOR PLAYING IN VR?
VR allows you to run a business in any territory. A minimum of 50m2 is enough to play a game with 2-4 players. If you have a bigger area, you can conduct large-scale battles with the simultaneous participation of a larger number of players, from 16-20 people.
An area size for opening your own VR business
A recommended number of game sets for arenas with different sizes:
| | |
| --- | --- |
| ARENAS | GAME SETS |
| up to 50m2 | 2-4 |
| up to 100m2 | 5-8 |
| up to 200m2 | 9-12 |
| over 200m2 | 12 to 20 |
LASERTAG.NET OFFERS A COMPREHENSIVE SOLUTION FOR STARTING A BUSINESS
Advanced Virtual Reality Equipment for Business, which will become the main trademark of your arena.
Marketing materials to attract visitors and the development of the arena!
Personal advice on starting an entertainment business from users.
A specialist's visit to launch your VR-arena.
Development of personal gaming locations based on the size and features of your premises.
---
To get a catalog or ask questions to our specialists fill out the form or request a call!